Newport Convertible engineering was first US coach builder which designed, engineered and distributed Acura NSX Convertible.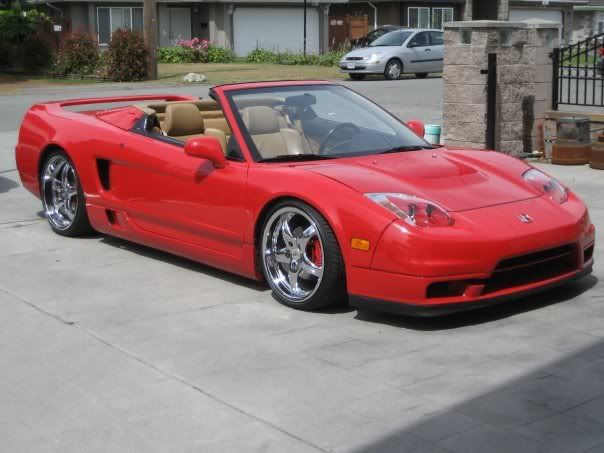 NSX Convertible/ American Honda Motor
A Topless, Turbo NSX – Teaming up to make an exoticar even more exotic
by Steve Statham – Autoweek
Most "tuner cars" spring from the vision of one person and are the product of one shop, but sometimes competing visions can be combined to great effect. Recently, Bell Engineering in San Antonio, Texas, maker of turbo kits, and Newport Convertible Engineering, in Calif., which specializes in convertible conversions, worked together for a customer who wanted both for his Acura NSX.
Newport's efforts are the most visible. The company has been doing convertible conversions for nearly I I years, and the NSX fits right in with the prestige cars on which the company built its reputation. "People have really responded well," says Newport's Mathew Kahn, who estimates his company is converting 20 to 25 NSXs a year. To do the job, Newport needs the car for about four weeks. The convertible top consists of a targa roof section and a rear piece made from canvas. The roof and canvas fit in the trunk, while the overhead top support bar folds up neatly under a fiberglass boot. The chassis, naturally, is reinforced.
Ragtop conversion costs $19,500, uses slots and velcro to attach to support bar.
Even though Acura has an NSX with factory targa top waiting in the wings, Kahn figures that few NSX owners will trade in their still-newish cars on an expensive new targa model, but they might be enticed to pop for his targa conversion at $8,500, or the full-boat convertible conversion at $14,500.
Invisible externally, but certainly noticeable from behind the wheel is Bell's twin-turbo conversion. Corky Bell has been creating turbo kits for 20 years, the last three under the Bell Engineering name. So far, the company has sold 12 of the $7,850 NSX twin-turbo kits. CARB certification is pending for the NSX system, but since the turbos and intercoolers are located aft of the catalytic converters and no emission controls have been disconnected, the company anticipates few problems with legality.
Twin Aerodyne turbos fit behind the rear wheels and carry their own oil reservoir. Variable vane design lets turbos spool up quicker, providing improved power at low speeds.
During our brief ride-and-drive we found the thrust from the turbos intoxicating, not to mention license-threatening. The power delivery was smooth, with no hiccups or glitches, and there was only slight shushing sound to let us know the turbos were in use. The convertible too seemed well-made and was reasonably quiet at speed, but headroom will be tight for a six-footer. Still, there's little arguing with the visual, and visceral, impact this car makes. Perhaps two tuners are better than one.
SIDEBAR: Running Wide Open – Honda's supercar goes convertible.
In one respect, Acura's NSX is exactly like any other exotic sports car: someone, somewhere will want to heighten its appeal by lopping off its top. Doron Izakov made the rounds of conversion shops, looking for one willing to cut into the NSX's unique aluminum structure. Newport Car Conversions in Norwalk, California, agreed to use his car as a prototype to develop an NSX convertible.
The result is an intriguing open-air car with handsome, well-integrated lines, an easy-to-operate top, and decent chassis rigidity. Newport can duplicate Izakov's car for about $15,000.
This conversion is something of a targa/soft-top hybrid. A hard, canvas-covered-fiberglass roof panel unbolts–using the Corvette's cute little ratchet wrench and four screws–and stows in the trunk. The car can be driven that way. In fact, for those who prefer the targa configuration, Newport offers that conversion as well. (And Honda will release its own targa option late this year.)
But a pop-top doesn't give the same open-air driving experience as a full convertible. To get that from the Newport conversion, just pull off the rear canvas panel. It has snaps around the lower edge and hook-and-loop strips across the top on an overhead bar. This bar (to which the targa panel's rear edge bolts, when everything is buttoned up) then unlocks and folds down. It hides under the hinged, black-fiberglass boot lid that nicely fills the hole left by the sloping back glass of the original roof.
Extensive bracing, using welded-in aluminum tubing, replaces much of the structural integrity lost along with the original roof. So cowl flutter on bumps and rough pavement is minimal. And there is even fairly good control of drafts and buffeting in the open cockpit. It is, in the end, a brilliant car made breezy.
We know better than to become too attached with sketches of an upcoming car since the concept that follows typically doesn't match up. The 2015 Acura NSX is one of those rare exceptions.
What you see here are the design sketches for the NSX Concept, to which the concept that wowed us at the 2012 Detroit Auto Show stayed surprisingly true. Drawn at the automaker's studio in Southern California, the sketches also show a bit of the interior, which was absent from the physical concept.
It's too soon to say if any or all of what's been reveal thus far will migrate to the production model. But as long as Acura doesn't veer too far away from the concept, we'd say it has a compelling and proper follow up to the much-loved predecessor.
Source: Acura
Acura vehicles in The Avengers
Article by Jonathan Yarkony;
Photos courtesy Acura
This just in from the entertainment desk: Acura is claiming that 12 percent of The Avengers' success at the box office is because of the cameo appearance of the NSX.
Just a little joke for those of you who have been to see Marvel's The Avengers already. In truth, the NSX convertible's cameo as Tony Stark's "driving off into the sunset" vehicle is too brief to give anything but a slight taste of Acura's future products, and even as the official vehicles of S.H.I.E.L.D., the TL sedan and MDX crossover show up only momentarily and are quickly swallowed by the mayhem and violence of an introductory chase scene. The only other notable appearance of an Acura vehicle is a rather awkward ground shot of the RDX as New York is being inundated with the creepy alien minions of the Norse god, Loki, who is also essentially an alien with godlike powers. Yeah, it's a bit far-fetched as a storyline for my tastes, but in the world of comic books, I guess anything goes. I think the far more realistic human villains of Batman'sDark Knight series resonate more deeply with audiences. At least the Avengers themselves are a nice mix of super powers and all-too human character traits.
So why is Acura so gung-ho in promoting its association with the Avengers? Even though the vehicles are nowhere near the centre of attention as were the Camaro and other vehicles in theTransformers movies, Acura targeted Marvel's The Avengers as the ideal association for their brand renaissance, and in particular, Tony Stark as Iron Man as portrayed by Robert Downey Jr. The billionaire playboy philanthropist genius descriptor is a bit of a reach for Acura (or as a target customer for any car in their lineup except the NSX), but the extraordinary results from the integration of machine and man reflect Acura's desire to produce cars (yes, cars, moreso than trucks) that capture moments of indelible joy through the application of technology in an intuitive and emotional design. Acura also took the opportunity to preview a series of upcoming commercials that aim to highlight the emotional appeal of Acura products.
Acura NSX Convertible as seen in The Avengers
The NSX sure punches all of those emotional and technological buttons (and I'll take a leap of faith in predicting that the driving experience too will be transcendental). But Acura's launch of theILX and RDX don't exactly live up to the expectations that Acura is putting forth. A compact luxury vehicle with dated powertrains, the top-spec engine pulled from the Civic Si and available only with a manual transmission? Not gonna cut it. A compact crossover without even the full, torque-vectoring version of Acura's Super-Handling All-Wheel Drive and the only significant advance being adaptive dampers? Upsizing the engine from a turbo-four that was ahead of its time to a V6, when most manufacturers are going the other way to meet stricter emissions regulations and improve fuel efficiency while still increasing power and only now moving up to a six-speed auto when many manufacturers are moving up to seven and eight gears? Disappointing on paper, though perhaps redeemed by a sublime driving experience. I can't speak for myself, but if Paul Williams' driving impressions in his First Drive of the RDX are anything to go by, they're not quite out of the woods yet.